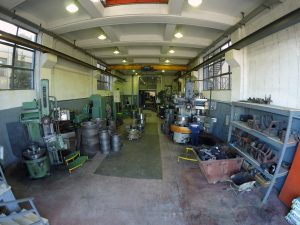 Established by the founder Yannis Lotos, Metlockast Hellas Ltd, is the leading company in the field of welding, reconditioning, sales of spare parts and in general ship repairs, serving over four decades the shipping and heavy manufacturing industry.
Located in a privately owned area of 9,000 m² at Schisto Industrial Park in Piraeus, and owning a 4,000 m² storage area of a new and reconditioned spare parts for main and diesel engines, the company specializes: in reconditioning – at a specialized workshop, in the sales of spare parts of internal combustion engines (valves, seats, piston, crowns, cylinder covers, piston rods, valve cages), in machining, remetalling, refilling, welding & hard chrome and in general ship repairs on board.
Our ongoing success is based on continually investing in machinery of the latest technology, on the implementation of quality control in every step of the service & sales process, and on our immediate response to our customers' needs 24/7/365. Our work is approved by Lloyd's Register Quality Assurance with an ISO 9001 certification approval, and all spare parts and services are accompanied by Warranty.
Metlockast Hellas Ltd, has been appointed as Authorized Repair Agent of MITSUBISHI UEC Diesel Engines, in relation to after-sales work for the repair& recondition work and/or the maintenance work of UEC Diesel Engines, since 2015.
Our mission is to provide the shipping industry with high quality services, marked by our experience and professionalism and staffed by highly skilled Marine Mechanical engineers, able to undertake projects around the world.

Workshop & Service
Total Overhaul, maintenance & repairs
Engines: Total overhaul, repairs, performance control
Cylinder Head: total maintenance, valve seat machining
Cylinder Liner: honing, roughness and dimension report, machining of sealing surfaces
Piston crown: machining of grooves and sealing surfaces
Connecting rode: ovalness report, machining, surfaces & serration gringing
Crankshaft: straightness test (also on lathe till 6.5 mtrs), hardness test, metalloscopic test, deflections report
Engine block: line-boring of support, grinding of sealing surfaces
Pumps: Total overhaul, components particular
Coolers: cleaning, re-tubing
Gearbox: Total overhaul, shaft machining
Recondition Works
Hi-Tec Processes
All recondition activity is based in Hi-Tec processes like Metal Cold Spraying, PTA, Metal Thermal Spraying,Automatized MIG welding etc. approved by LLoyd's Register.
Valves made of Nimonic & valve seats recondition using PTA
Big outlet valves recondition using MAG
Recondition of piston crown and piston heads made of steel or aluminum alloys
Recondition of piston rods
Recondition of the cylinder covers made of steel or cast iron using various hard facing methods
Recondition of the hydraulic cylinders & rods using cold-spraying
Recondition of connecting rods
NDTest – Quality control
Voyage Repairs and Services
Hi-Tec Processes
This service is available round the clock anywhere across the globe at short notice. Our "flying squad" team of well experienced workers, fully equipped with all the necessary tools and consumables, is capable of undertaking works worldwide, working in a 24 hour basis and offering quality services as per Class recommendations. We provide full range of ship repair and engine overhaul services to all types and sizes of ships.
On Voyage Repairs
Alongside/Safe Berth Repairs
Anchorage Repairs
Complete or partial Engine Overhaul
Routine maintenance & repair of engines
Technical Consulting Services
Stock
Huge range of new / reconditioned / 2nd hand spare parts
Metlockast Hellas has a large stock of parts for any type of main engine and diesel generator directly available for dispatch. Indicative: SULZER / MAN B&W / MITSUBISHI / YANMAR / DAIHATSU etc.
Piston Crowns
Piston Rods
Piston Skirts
Cylinder Liners
Exhaust Valves Spindles
Inlet Valve Spindle
Valve Seats
Valve Houses
Cylinder Covers
Crankshaft (certified)
Connecting Rods
Bedplates, Engine Blocks
Camshafts
Cylinder Heads / Pins
Complete Units
Fuel Injectors
Fuel Pumps
Complete Generators
Complete aux. machineries
Governors
Delivery
24 hours 365 days
Owning one Factory and a Warehouse in the center of Piraeus and a fleet of trucks with cranes and other smaller vehicles,transportation and delivery is guaranteed on time 24/7/365, even for demanding or heavy parts. Metlockast Hellas S.A. has a completely modernized spare parts sales & exchange network. Parts and services are accompanied by warranty.